Pesticides & Produce
Each year the Environmental Working Group (EWG) releases their Shopper's Guide to Pesticides in Produce along with the Dirty Dozen and Clean Fifteen. The EWG gets the majority of their data from the USDA's produce testing results. They also do a smaller number of tests themselves.
The 2019 Guide has 47 different fruits and vegetables on it and they are listed from those with the mostpesticides (#1) to the least (#47). The Dirty Dozen are the first 12 on the list and the Clean Fifteen are the last 15 on the list.
The information doesn't change drastically year over year but there are some changes in position and sometimes new additions or subtractions from the list. For instance this year kale was added back in at #3 in the Dirty Dozen from their prior position at #8 in 2009 because there was more pesticide residue found this time around.
Most of this blog is going to be from information found on the EWG's website including their list and its press release.
What's the Dirty Dozen?
First off, let's start with the Dirty Dozen – the top 12 from the list of 47. Number 1 still belongs to Strawberries – it's had the largest amount of pesticide residue for as many years as I've known about the list.
In the latest USDA tests from 2015 / 2016 99% of the strawberries had at least one pesticide and 30% had 10 or more pesticides. All told there were a total of 81 different pesticides found in all of the residues.
5.6% of the strawberries had pesticides that are either considered illegal or illegal at the levels found on the berries. That doesn't give me a warm and cozy feeling about eating strawberries.
It shouldn't be much of a surprise though as overall the US pesticide regulations are pretty weak while many of these pesticides are illegal in the EU and other parts of the world.
#2 on the list is spinach. The average number of pesticides the USDA found across all spinach samples was 7.1. One residue found on 76% of the samples was a neurotoxic insecticide called permethrin which has been shown at high doses to cause tremors and seizures in adults and in children to be related even at low levels with symptoms of ADHD. Europe, not surprisingly, has not allowed any permethrin on food crops since 2000.
As I mentioned above, kale has moved up to #3 this year. 92% of the kale tested had 2 or more different pesticide residues found on them, one of which DCPA, which even the EPA classifies as a possible human carcinogen, was found on 60% of the samples.
Strawberries, spinach, kale, apples, nectarines, and cherries (all found on the Dirty Dozen list below) had more than 90% of their samples test positive for 2 or more kinds of pesticides on them.
The Full Dirty Dozen
Strawberries
Spinach
Kale
Nectarines
Apples
Grapes
Peaches
Cherries
Pears
Tomatoes
Celery
Potatoes
One other item that is also called out but not officially added into the Dirty Dozen are hot peppers because they have been found to have insecticide residues that are toxic to the human nervous system.
The Clean Fifteen
Now on to the Clean Fifteen where we have to start with #47 and work down the numbers…
The cleanest fruit or vegetable was the avocado where less than 1% of avocados had any detectable pesticide residue. The same was also true for #46 sweet corn.
For these two, and for most of the rest of the Clean Fifteen, you don't have to be as concerned about spending the extra money on organic if that is a concern for you.
Only 6% of the Clean Fifteen samples had two or more kinds of pesticide residues on them (as compared to 90% of the Dirty Dozen samples) and more than 70% had no pesticide residues found on them at all.
What Are The Clean Fifteen?
The list is as follows starting the 15 from the bottom (cleanest) of the overall list: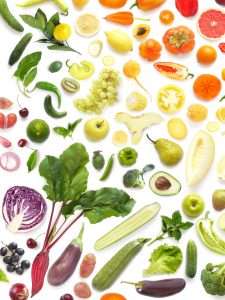 47.  Avocado
46.  Sweet Corn
45.  Pineapples
44.  Sweet Peas Frozen (only frozen item on the list)
43.  Onions
42.  Papayas
41.  Eggplants
40.  Asparagus
39.  Kiwis
38.  Cabbages
37.  Cauliflower
36.  Cantaloupes
35.  Broccoli
34.  Mushrooms
33.  Honeydew Melons
One more thing they call out and I will mention is that Sweet Corn, Papayas, and Summer Squashes (in the middle of the list) can sometimes be grown from GMO (genetically modified) seeds. So if you are concerned about eating GMO produce it's best to only eat organic for these 3 items. That is unless you decide to grow your own or buy them from a Farmer's Market where you can ask the seller if they were grown with GMO seeds.
Full Shopper's Guide List
The full produce list is below including the Dirty Dozen and Clean Fifteen — remember the lower the number on the list the higher the amount and kinds of pesticides found on them.
| | | | |
| --- | --- | --- | --- |
| 1 | Strawberries   (the most pesticides) | 24 | Winter Squashes |
| 2 | Spinach | 25 | Snap Peas |
| 3 | Kale | 26 | Carrots |
| 4 | Nectarines | 27 | Oranges |
| 5 | Apples | 28 | Summer Squashes |
| 6 | Grapes | 29 | Mangoes |
| 7 | Peaches | 30 | Bananas |
| 8 | Cherries | 31 | Sweet Potatoes |
| 9 | Pears | 32 | Watermelons |
| 10 | Tomatoes | 33 | Honeydew Melons |
| 11 | Celery | 34 | Mushrooms |
| 12 | Potatoes | 35 | Broccoli |
| 13 | Sweet Bell Peppers | 36 | Cantaloupes |
| 14 | Cherry Tomatoes | 37 | Cauliflower |
| 15 | Lettuce | 38 | Cabbages |
| 16 | Cucumbers | 39 | Kiwis |
| 17 | Blueberries | 40 | Asparagus |
| 18 | Hot Peppers | 41 | Eggplants |
| 19 | Plums | 42 | Papayas |
| 20 | Green Beans | 43 | Onions |
| 21 | Tangerines | 44 | Sweet Peas Frozen |
| 22 | Raspberries | 45 | Pineapples |
| 23 | Grapefruit | 46 | Sweet Corn |
| | | 47 | Avocado      (mostly no pesticides) |
Wrap-up
That's the entire list. Fruits and vegetables are good for you, everyone agrees on that. But, if you can't afford or can't get organic for some of the "dirtiest" on the list then you may want to try eating fewer of those items and more from the cleaner end.
To learn more about the Environmental Working Group you can go to their website ewg.org. They rate many different kinds of products, not just produce. There are ratings for cosmetics, sunscreens, and cleaning products along with other areas that should be of concern to everyone.
EWG is a non-profit organization and does not make any money off of these lists and ratings. I use their website quite often when I am looking to buy cleaner versions of laundry detergents, toilet bowl cleaners, etc. I also use it if I want to know what's in some of the face creams/ soaps and body lotions in my cupboard.
**This post is related to my Should You Buy Organic Food? podcast which you can listen to here on the site.