Interview with Ronald Hunt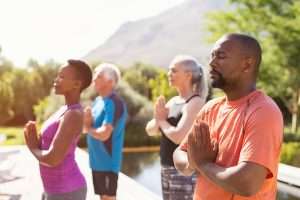 Ron Hunt is truly a Renaissance man – Reiki Teacher Master, NLP Certified, Life Coach, Modern Minister and Life Cycle Celebrant. He has a passion for helping people to expand their minds through mindfulness and the development of a growth mindset – changing the lives of people of all ages.
In addition to all of this he is a Life Cycle Celebrant who helps couples to create their Dream Wedding, perfect Ceremony, and brilliant start to their lives together. His website is listed below where you can contact him if you are interested in having him officiate at your wedding or someone else you know.
Ron and I spoke extensively about the value of meditation at any age and how important it is to creating the lives that we want.We also spent some time talking about our own paths and how we developed our own meditation practices.
"Some people meet us at our worst time, but still see the great in us. They are the ones that will always have our backs and our hearts." – Ronald J. Hunt